Since 1980 Decoroll (formerly known as Decorative Coatings) has provided a painting and decorative service to the highest quality. Decorative finishes have evolved over the years and the team at Decoroll have proudly adapted to implement the newest and most effective ways to finish to the modern standard. Although our team specialise in wallpaper installs, as qualified painters and decorators, we are not limited and have experience in other decorative finishes including gold leafing, wood graining, marbeling and more!
Over the past decade, the demand for wallpaper has increased dramatically, from feature walls in display homes to large commercial features, hence why it is our specialized field. As there have been technology improvements in the products we use and in the wallpaper products we install, we aim to always advance our methods to add diversity
Our team of professionals boast over 70 years collective experience in high end decorating and can cater to a range of jobs including domestic and commercial wallcoverings, decoration, and even artwork to compliment any interior design
Are you considering installing wallpaper in your home for the first time? Don't hesitate to contact us, we will gladly assist you through the process of ordering and installing your desired style of wallcovering
COLLECTIVE YEARS EXPERIENCE
OUR TEAM ARE READY TO HELP!
We can't wait to get started! Let us assist you through the process of ordering and installing the wallcovering you love. Contact us now for a free quote, you'll hear from our management team within 24 business hours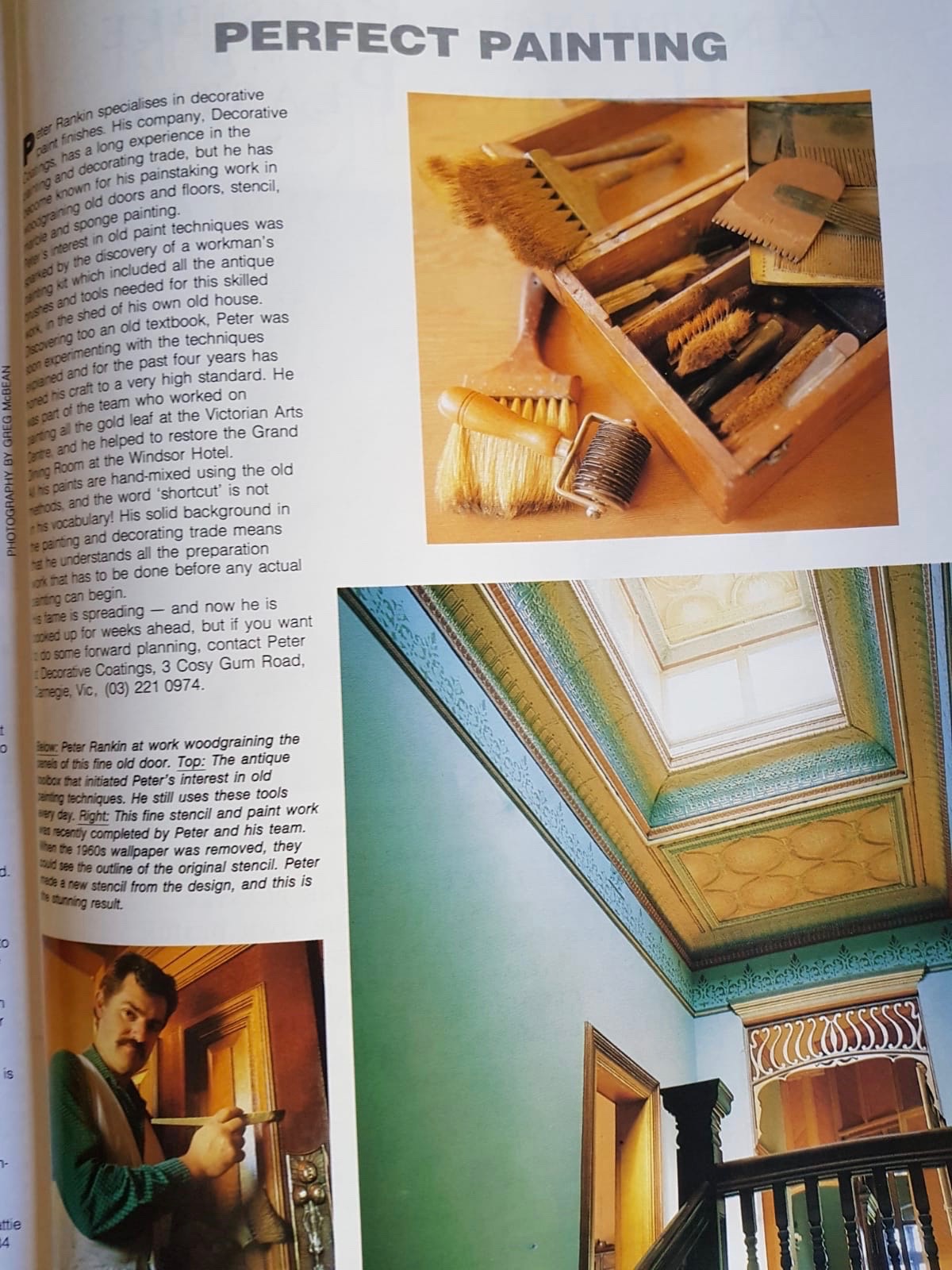 DIRECTOR, PETER RANKIN
FEATURE IN "LIFESTYLE" MAGAZINE
The Story of Decoroll starts with the company's founder, and director, Peter Rankin. Peter started his apprenticeship at Opat's as a Painter and Decorator at the age of 15, and was a foreman by 20. In this time he took part in, and oversaw a large variety of upper class work. Noticing a gap in the market, Peter started Decoroll (FKA Decorative Coatings) in 1980. From humble beginnings, Decoroll grew in both reputation and size to provide the highest standard of wallpaper installation techniques in Victoria, Australia and even internationally. Now some 40 years later, Decoroll has the largest and most established team of certified and qualified wallpaper installers, a feat not easily matched. Peter Rankin's fundamental belief in the importance of understanding the trade, as well an appreciation for qualifications within the trade, has lead Decoroll to win multiple awards. As the industry continues to grow, Decoroll looks to the future as it continues to put emphasis on constant improvement and innovation within this prestigious trade.